KRUK has announced  important changes in its shareholding structure.
Piotr Krupa endowing the family trust KRUPA Fundacja Rodzinna w organizacji  with the contribution of 1,100,000 KRUK shares.
Following this changes in the shareholding structure of KRUK, Piotr Krupa continues to hold a total of 9.08% of all shares in KRUK, including 3.39% directly and 5.69% indirectly.
The President of the Management Board and CEO of KRUK S.A. Piotr Krupa declared " "In business and personal life alike, I prioritise long-term thinking. The Polish Family Trust Act, introduced in May 2023, allows me to safeguard my family's financial future without worries about their long-term finances. Simultaneously, with a more than 9% ownership interest in KRUK, my commitment to the Company remains unwavering. KRUK is the entrepreneurial venture of my life, which I have nurtured for 25 years, and I remain dedicated to its success. This latest development reflects my strong belief that the Company stands as the most valuable asset for my family's future.  Under an agreement with the trust, I will continue to exercise all the rights attached to its shareholding in KRUK.
"Our H1 2023 results highlight our robust position, and I am confident that our most prosperous days lie ahead.  My aspiration is to lead KRUK towards more achievements and to be an integral part of this journey. As we stand exceptionally well-positioned to deliver further growth, I am optimistic about KRUK's prospects, both in the next 5 and 25 years. Contributing a portion of my shares to the family trust underscores my and my family's enduring faith in KRUK and our forward-thinking approach",  he continued.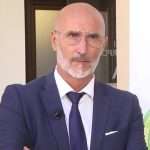 Managing Director of Credit Village, Roberto Sergio has more than 20 years of experience in NPL and distressed debt in the Italian and International market. He is the editor of the NPL column in Credit Village Magazine and the director of Credit Village's National NPL Market Observatory.